Eastern Adventure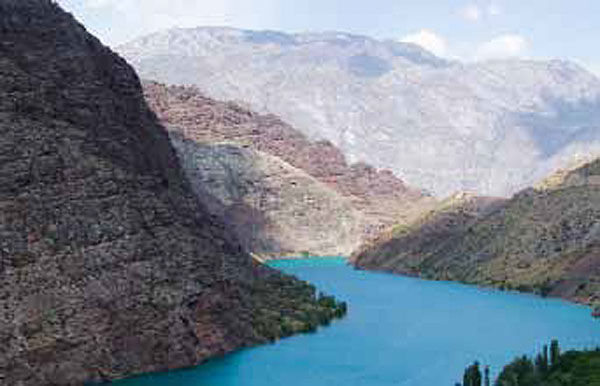 Don't rush, always take the time to smell the flowers ...
... This was the motto with which Mick and Sue set out from England mid 2004, with the intention of taking their matching BMW F 650 GS (Singles) deep into the open expanses of the East.
After a last stop at Wunderlich in Sinzig, the motorcycles are ready for their journey, and it's time to set off. With the GOBI pannier system, Wunderlich cooler protection, ERGO Seats, BLUE air filters, Odyssey batteries and Denso sparkplugs, the bikes are ready for any challenge. For this first part of the tour, the two have opted for "Escape" tires from Continental. A good choice, as we shall see.
From Sinzig they head for Poland, where they explore the wintry northeast of the country. No sign of approaching spring, the landscape is still hibernating. Masuria's pristine lakes, lively towns like Bialystok and the free-roaming wolves and bison in the national park are their first impressions of the "Wild East". Then it's off at a relaxed pace through Belarus to Russia. It takes a while for them to get used to Russian hospitality and to relax enough to let strangers park their bikes without prejudice or misgivings and to accept invitations from total strangers to come and stay.
After a brief detour to Kazakhstan they head further east, always following the magistral road. Mick keeps running into fellow policemen on the street, and his Russian colleagues are delighted to meet a real-life English police officer. Sue and Mick let go of any reservations about Russian hospitality – some evenings they end up having a few drinks and a good time with a circle of new friends in a small village in the back of the Siberian beyond.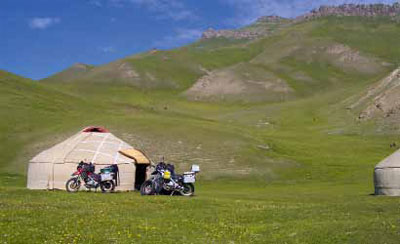 Heading southwards past Barnaul they wander through the Altai mountains before reaching their dream destination – Mongolia. It's now time to swap the tried and tested Conti Escape for the TKC 80. They knew there would be either bad roads or no roads at all, but just how bad things are still comes as a shock. Being limited for hours on end to speeds no higher than 10km/h, with the bikes coming out from under them at regular intervals, is a serious test of nerve. But here the GOBI panniers show yet again how robust they are and handle the constant stresses with perfect ease. Our riders are also impressed with the Odyssey pure lead battery for not giving up under the strain of constant starts and restarts.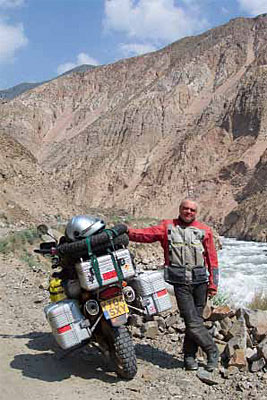 The various technical hitches they encounter don't hold them up for long, however, and they prepare to take the bikes through the Gobi Desert. And it is here that the two F 650s, the TKC 80s and the Wilbers suspension show just what they're made of, allowing the pair to enjoy riding through this beautiful landscape. Unfortunately, attempts to enter China come to nothing, but it was worth a try. So there's nothing for it but to return to Russia via Mongolia to take a few relaxing days off at Lake Baikal.
The region's bikers, who looked after them so well on the way over, are delighted to see them again. As the return trip through Russia is relatively boring, they decide to take in Kazakhstan, Kyrgyzstan and Turkmenistan instead. In Kazakhstan, Mick tries to navigate using logic and instinct – with the result that they get hopelessly lost. Now it's Sue's turn to intervene with her womanly logic, and they quickly find themselves again on the right road... in Kyrgyzstan they regretfully have to turn down the offer of an evening meal, having previously sneaked a look at what was in the big pot: sheep's' heads, entrails, sexual organs – happily there's a bit of fruit left in the tank backpack.
In Turkmenistan, the odds of meeting other bikers are about 1.000.000:1 – people gape at them as if they have just come from another world. With the help of some locals they find a ferry over the Caspian Sea, which brings them to Azerbaijan. From there, it's only a "hop, skip and a jump" to get home via Georgia and Turkey.
And as they get closer to home they find themselves on better roads, meaning that the work horse TK C 80s can go back on the luggage rack, and the sure-footed Conti Escape can take them home.
In Bulgaria, Serbia and Croatia, the two riders are expected by police colleagues and are made to feel thoroughly at home. Still spellbound by the many impressions, experiences and the indescribable hospitality of the people they have met en route, our riders finally arrive at Wunderlich at the beginning of August, dusty but happy. Here too they are greeted with open arms, and, over a few cups of coffee, stories are related, questions answered and new plans made for the future.