Wunderlich Company Profile
Functional products for customized and perfect motorbikes.
For over a quarter of a century we at Wunderlich GmbH have been producing high-quality accessories, in particular for BMW motorbikes. Today, a dedicated development department creates tailor-made solutions related to the whole BMW range.
Our very successful company history began - how else? - as a classic garage career. In 1985, Erich Wunderlich was still mending his Yamaha one-cylinder XT and SR under his parents' roof. His first modifications aroused a lot of interest very early on. The first 8-page catalogue, still written by typewriter, included a direct lubrication system of the upper camshaft and similar treats. Just two years later the garage was bursting at the seams. From his home he moved his business directly into a warehouse at Ahrweiler station. The sophisticated program comprised everything from chassis optimization through to complex performance increases and was finally no longer manageable for one person. Peter Hoppe, today operations manager, was Erich Wunderlich's first employee in 1988.
The next move was just around the corner and our young company specialized exclusively in the BMW brand. At the IFMA in Cologne in 1991 the Wunderlich stall was extremely busy. The powerfully tuned BMW R 100 GS on display was a crowd pleaser. Only one year later the 67-page catalogue appeared, with more than 200 accessories 20,000 BMW accessory catalogues were shipped from our company annually. The team, which by then had expanded to twelve staff members, supported hundreds of customers, developed the first ERGO benches and ERGO touring discs, designed new catalogues every year and very successfully represented the company at INTERMOT in Munich in 1998. An important milestone in our successful company history was the year 2000. As one of the first companies in our sector, we were DIN/ISO 9001 certified and thus entitled to request TÜV reports. One year later our certification was expanded to DIN/EN/ISO 9001:2000 (KBA standard). This made us trendsetters in the motorbike sector.

Telephone advice and ordering
service


Shipping center, showing here
the outgoing goods section


High-shelf storage for pre-season
provisioning


Shipping area, where the required
supplies for 14 days are stored
And once again our ever-expanding company outgrew the company premises. In January 2004 we moved into our current location at Kranzweiherweg in Sinzig. Finally, we had enough space for the development department, which had grown continuously since 2000. Five employees are currently working in that area, using state-of-the-art technologies, including a rapid prototyping printer. This state-of-the-art device is used to create 3D functional models in the plastic printing process. A 3D laser scanner transfers surfaces and shapes into the CAD system with high precision. The advantage for our customers: an extremely accurate fit for the final products. Two in-house CNC milling centers complete the high-tech machine park. Here, small batches for testing are produced, as well as complete first series and moulds for the manufacturing operations.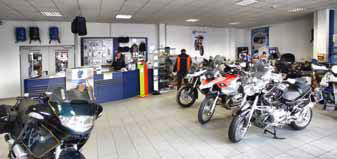 Competent, friendly advice and always a free coffee, that's our showroom.
Talking of testing - of course we not only rely on the theory of our development engineers. Before every single product finds its way into our catalogue and to the customer, its quality and durability are scrutinized in detail and evaluated. Not just our participation in race events such as the "BMW Power Cup", the "Heroes Legend", the "Rally Agadir", the "Rally Katar" and the legendary Erzberg rodeo in Austria, but also our own tours through African deserts or to the icy temperatures of the Arctic circle provide us with important information relating to the strength of our material and give us a lot of experience for developing future products. Approximately 500,000 kilometers of eventful test rides have taken us up to now through the whole of Europe, to Russia, Siberia, Africa, South America, the USA, Asia and the Middle East. This almost exactly corresponds to circling the earth twelve times! The products made by our technology and production partners are also subjected to the same scrutiny. In addition, most of our 42 employees are avid bikers themselves. They contribute a vast amount and test many of our accessories in everyday life.
For more than ten years our web site has provided a complete overview of our products - now as many as 3000. With more than two million hits per year, our web site is one of the most visited in the industry. Numerous hints and tips, interesting offers and exciting stories related to our activities complete our online offering. You are very welcome to take a glance at and into our company. Of course, this not only applies to our web site but in particular to a personal visit to our showroom and office in Sinzig. And when you visit, we'll always have a cup of coffee ready for you.

A part of the Wunderlich company premises.
(1) The main building with administration, shop and the shipping center.
(2) The first construction stage of the high-shelf warehouse.
(3) The research and development department.
On the right, part of our test track and some of the additional storage units (white garages) containing the performance test station, the archive, etc. can be seen.