For Sale: Wunderlich Custom R nineTeufel $21,995
We ship WORLDWIDE!
(Please click on the Images below for further information.)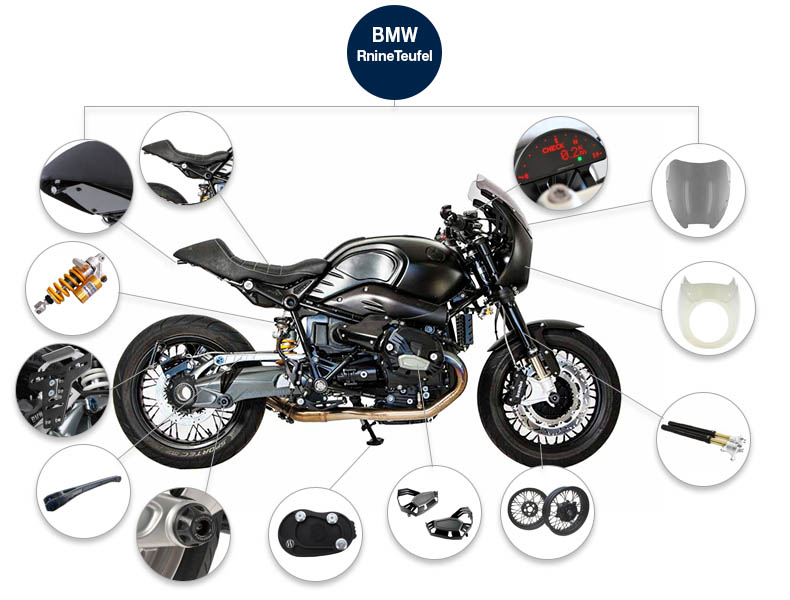 RnineTeufel
From the ashes of a stock R nineT, rolled out a beemer so dark and nimble that one would suffer in purgatory for eternity after its encountering. The Wunderlich R nineTeufel (devil) is a city street hooligan machine that was built to be ridden like a bat out of hell, thanks to the Öhlins suspension package and adjustable paralever arm allowing you to achieve full chassis tuning so you can roll into every corner with confidence. The triple black Italian Kite wheels are not only lighten slightly and stronger, but they are also tubeless giving you retro styling with modern reliability. The Teufel was equipped with a Wunderlich performance controller, air filter, and a Remus exhaust to squeeze as much power as possible from the DOHC boxer without splitting the case. With HP and torque increased, the brakes were also upgraded to TRW floating rotors to ensure optimal cooling under extreme braking.
The Passenger seat, pegs, and sub frame were completely removed to make way for the Wunderlich solo seat and the huge weight savings that comes with it. The license plate was relocated to the final drive and the taillight and turn signals were hidden but still noticeable when necessary. The handlebars were replaced with a narrower sportier bend bar, allowing for a sportier ride without compromising comfort. The levers and bar end mirrors are fully adjustable and black, completing the "back-in-black" theme and giving a final attitude to this black devil.
The Tueful has turned heads nationwide, no matter where it is people are drawn to it. From magazine articles to motorcycles shows, the Wunderlich Tueful has proven itself to be another one of our world class Beemer builds.
Even though our attachment to this machine is imperishable and we'd hate to see it go. The bike deserves a new owner who can appreciate the true beauty of this beast and ride it like a bat out of hell!
Wunderlich Upgrades:
Over $13,000 in performance and Wunderlich Parts
30471201 $549.95 | Daytona Fairing
30470212 $169.95 | Low Windscreen
44114202 $899.95 | One-Piece Seat RnineT, Black
25760305 $189.95 | Vario Clutch Lever
25750105 $189.95 | Vario Brake Lever
32421000 $59.95 | Side Stand Enlarger
8162473 $589.95 | Vario Parlever Arm
8160663 $59.95 |Paralever Slider, Dual Shock
8161539 $283.95 | Valve Cover Guards
26781002 $199.95 | Injector Cover Set
8520061 $34.95 | Rear Brake Reservoir Protector
27040103 $149.95 | Reservoir Cover Set
44201002 $119.95 | Exhaust Support Bracket
38981002 $194.95 | License Plate Bracket "Low"
36341002 $189.95 | LED Bar End Turn Signal
42751002 $79.95 | Air Inlet Guard
8520126 $49.95 | Oil Filler Plug
44481000 $699.95 | Motoscope Speedo
1601060 $49.95 | CSS Tank Pads
3699009 $2,295.00 | Tubeless Wheel Set
BM440 $1150.00 | Öhlins Rear Shock
FGRT216 $2,500.00 | Öhlins Front Forks, Black
SD044 $375.00 | Öhlins Steering Damper
6702100460L $539.00 | Remus HyperCone, Black
105087514 $160.00 | Remus Connector
101087514 $739.00 | Remus Header (Not available for California residents)
8166209 $64.95 | Flapper Eliminator (Not available for California residents)
44113202 $149.95 | Cube Indicator Set
27070003 $49.95 | Master Cylinder Cover
35660002 $159.95 | ABM Handlebar, Black
8500353 $85.00 | Valve Cover Bolts
44114102 $129.95 | Devils Eye LED Tail Light
| | | |
| --- | --- | --- |
| Make: | | BMW |
| Model: | | R nineT |
| Year: | | 2014 |
| Mileage: | | 6,251 |
| VIN: | | Please contact us |
| Price: | | $21,995.00 USD |
| Shipping | | WE SHIP WORLDWIDE |
BMW 2014 R nineT Stock Specifications
| | | |
| --- | --- | --- |
| ENGINE TYPE | | 1170cc air- and oil-cooled dohc opposed-twin |
| BORE & STROKE | | 101.0.0mm x 73.0mm |
| COMPRESSION RATIO | | 12.0:1 |
| TRANSMISSION | | Six-speed |
| FINAL DRIVE | | Shaft |
| FRONT SUSPENSION | | 46mm inverted fork, 4.7 in. of travel |
| REAR SUSPENSION | | BMW Paralever, 4.7 in. of travel |
| FRONT BRAKE | | Dual 320mm discs |
| REAR BRAKE | | 265mm disc |
| FRONT TIRE | | 120/70ZR-17 |
| REAR TIRE | | 180/55ZR-17 |
| REAR BRAKE | | 265mm disc |
| LENGTH | | 87.4 in. |
| WIDTH | | 35.0 in. (across mirrors) |
| SEAT HEIGHT | | 30.9 in. |
| WHEELBASE | | 58.1 in. |
| RAKE | | 64.5° |
| TRAIL | | 4.0 in. |
| FUEL CAPACITY | | 4.8 gal. |
| CLAIMED WET WEIGHT | | 489 lb. |
| CLAIMED FUEL ECONOMY | | 52 mpg (at a constant 55 mph) |
| ORIGINAL COLOR | | Black Storm Metallic |
Some images of the RnineTeufel