Scroll Down to View All The Parts on Our Wunderlich Edition
BMW G310 R Wunderlich Edition
BMW's first 300 is on the market - the BMW G 310 RIt's finally here, the long-awaited BMW below the magic 500ccm limit. Aside from the sadly all too quickly discontinued sports enduro G 450 X, the Bavarians haven't had a model with a cylinder capacity below half a liter in their range in over thirty years.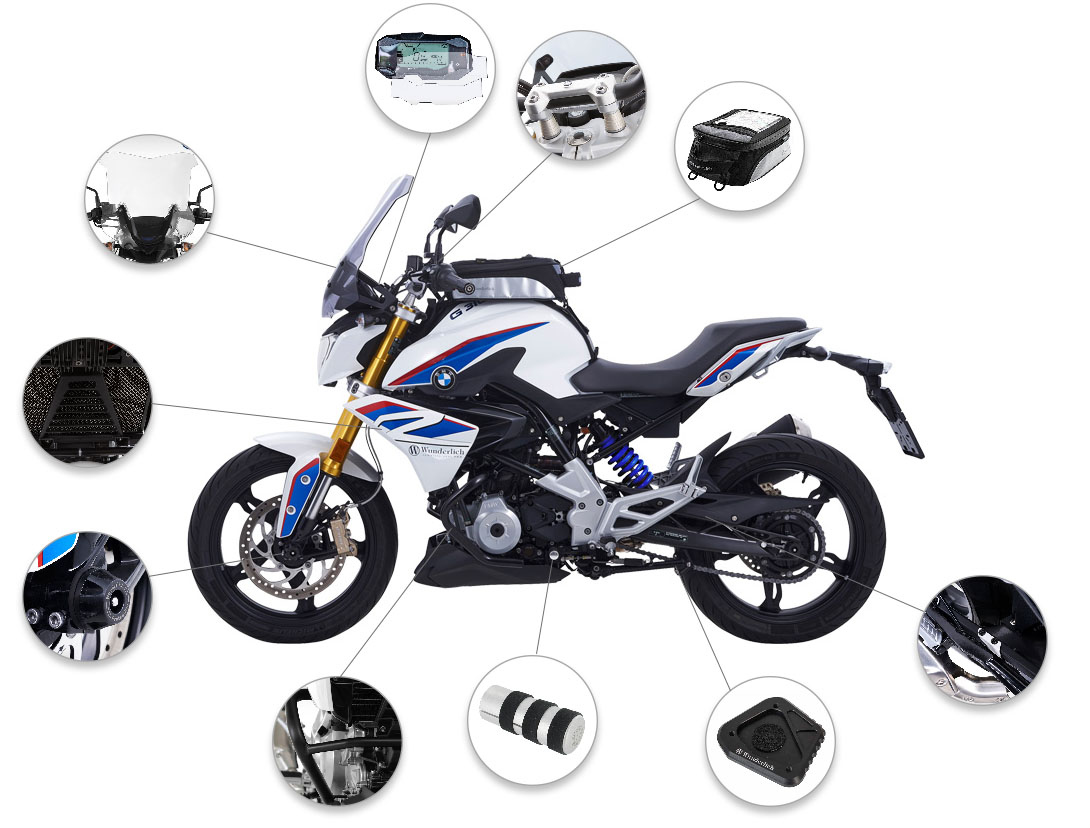 G310 R Wunderlich Edition
---
Please note: Products listed below is NOT filtered to show only products that fit a specific bike model. Parts listed below were used building this Wunderlich Edition. Please note multiple color options may be listed.
Here you can see the direct comparison to the original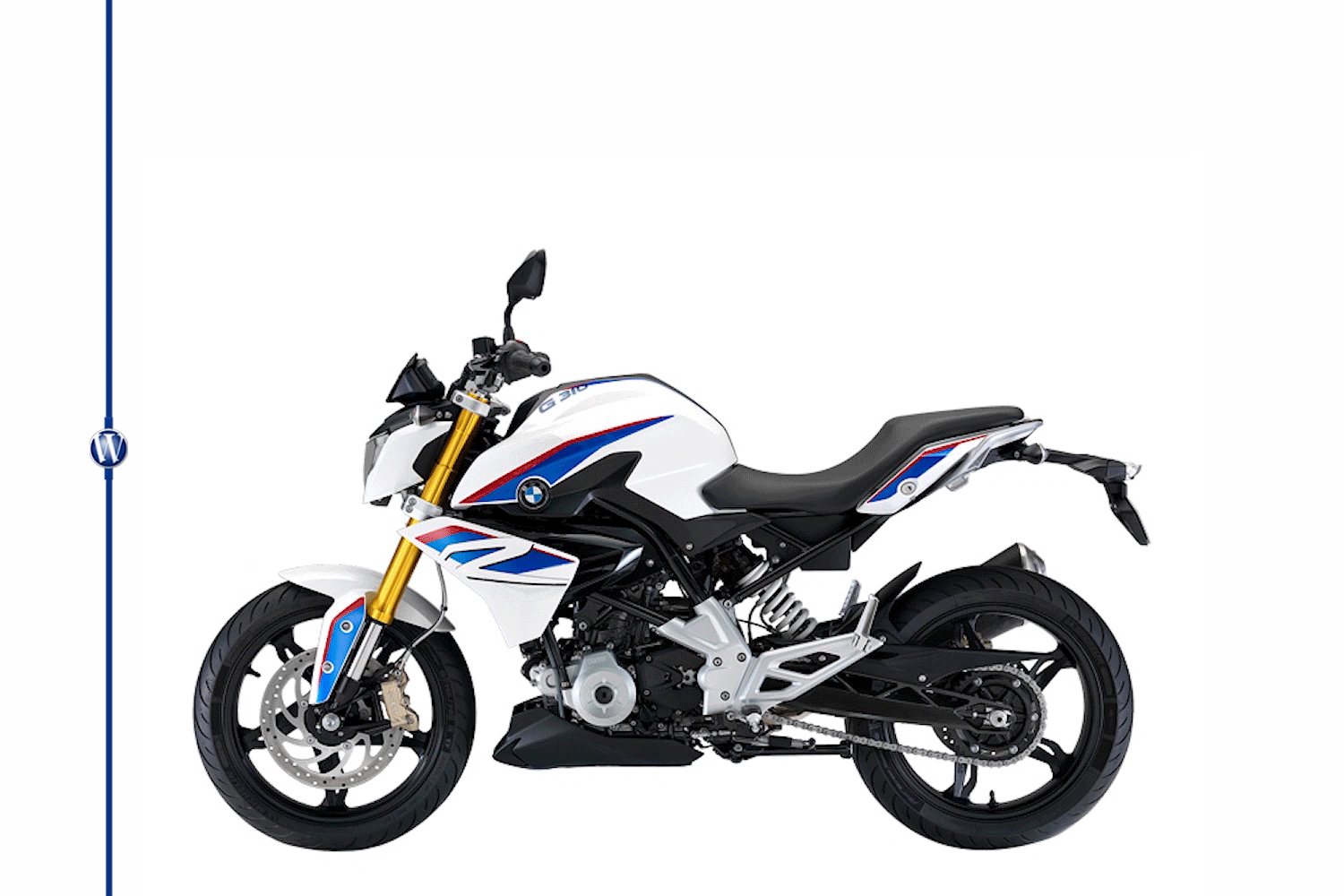 Developed in Munich and constructed by the TVS Motor Company in India, the G 310 R is aimed at international success. That's because the Bavarians have put an attractive and complete motorcycle on the market with the G 310 R. It makes a very respectable impression. The simple and sporty light screen, the dynamic, forward tapered engine and radiator grille, as well as the short, open tail section combined with the wide handlebar exude that true roadster feeling and match the typical BMW style.
The 313ccm engine is easy going with the BMW coming in at under 160 kg (353 lbs) in weight with a full tank. 34 PS (45.6 HP) at 9500/min and a maximum torque value of 28 Nm (20.65 ft/lb) at 7500/min doesn't sound like it could pull out tree stumps, but it's enough for a speedy and fun tour on those winding country roads, providing you're on the ball when switching up the six-speed transmission. The low, forward center of gravity and the short wheelbase of 1374 mm (54") contribute in part to this. With aluminum swing arms, vibration-dampening balance shaft, upside-down forks, rear tires with dimensions 150/60-17, two-channel ABS, four-piston fixed caliper brakes at the front , all make for a fantastic ride. The moderate seat height of 785 mm (30.9") is comfortable for beginners.
When first viewed at the Milan EICMA, we spontaneously came up with several ideas for improvements, and in the mean time we're offering a diversified product portfolio for the "little BMW". Of course, our developers are working on even more ideas for the attractive 300. To turn the series motorcycle into an individual, personal motorcycle.
---
Ergonomics
Personalize your ride comfort just for you!
Life for motorcyclists of different height or stature has not become much easier in recent years. The average seat height of a motorcycle in the eighties was still between 750 mm (29.5") and 800 mm (31.5"), today you climb on average to 800 mm (31.5") to 850 mm (33.5") in height. And even the lightest of all current BMW enduro bikes, the G 310 R, has a respectable 835 mm (32.9") in the series trim.
Shortly after launch, we offer high-quality components for the G models:windshields and handguards for wind, weather protection, handlebar risers for relaxed sitting and riding while standing, ergonomic seats and footrest systems for a relaxed knee angle, and much more.
---
Total protection and security
If you move your Enduro away from paved roads, we offer excellent components to protect your G 310 R. Regardless of engine or tank guard, engine and manifold protection, axle protection pads or our radiator protection, in case of a case they avoid major, costly damage to the machine. What's more, our high-quality protective components help prevent damage to the engine or components (for example, the exposed water pump), so that, despite a fall, it is absolutely essential to continue riding. An important aspect, not only for long-distance travelers who may get stranded off road.
Of course, our side stand extension can not be missing on any enduro: no matter the surface, the machine will stay securely even when fully loaded.
---
Innovative luggage solutions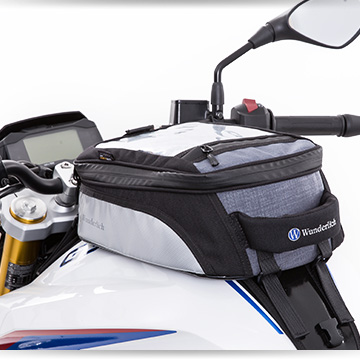 Wunderlich is well-known for its innovative luggage solutions specialized in BMW. This includes the classic among the tank bags: the extremely adaptable Mammoth Retro Tankbag or Retro Tank Bag. No matter if it's a card slot or photo insert, we have it covered!We also offer an assortment of side bags and tail bags.
---