Scroll Down to View All The Parts on Our Wunderlich Edition
2018 BMW S1000 RR Wunderlich Edition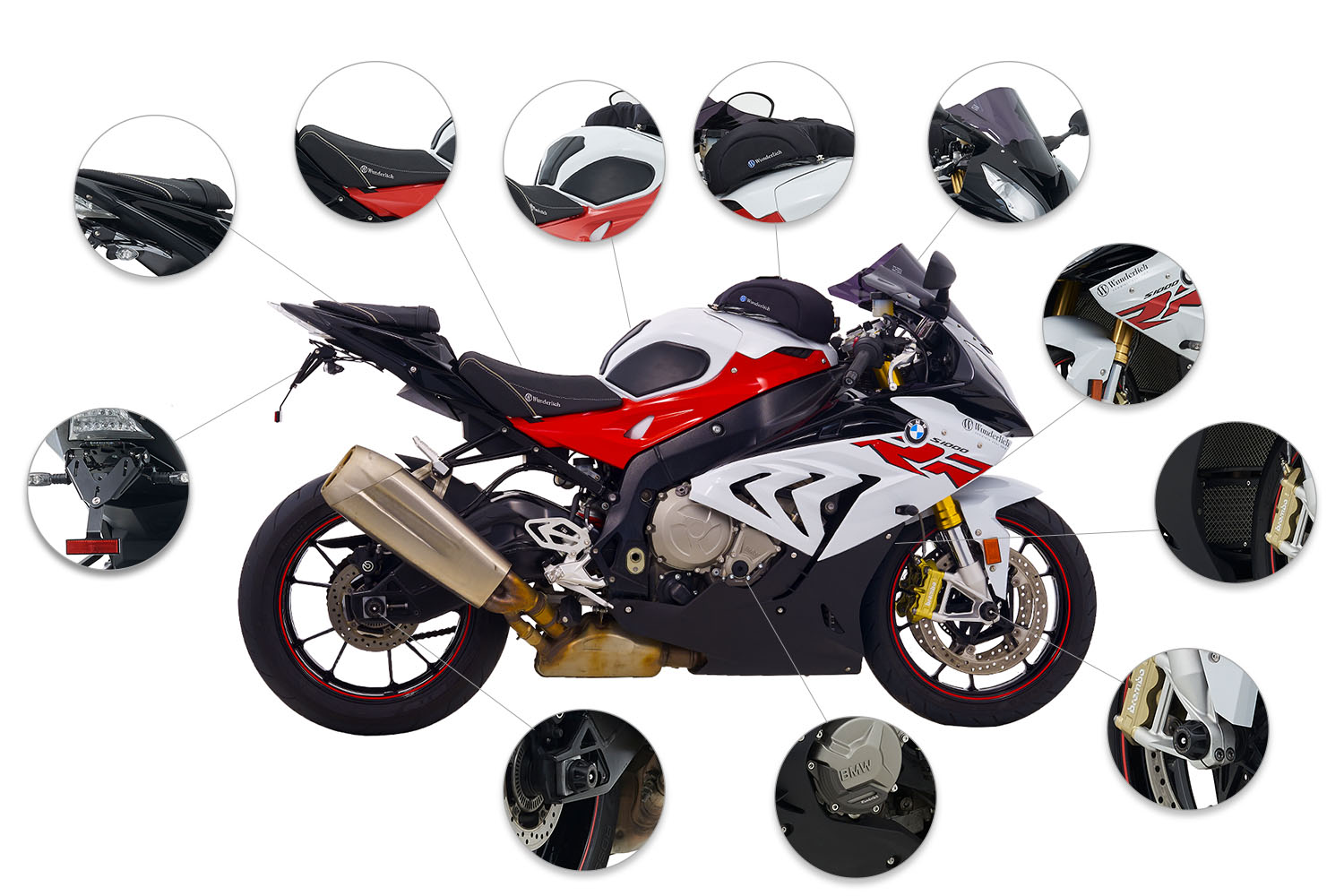 BMW S1000 RR Wunderlich Edition
Wunderlich is proud to showcase our customized 2018 BMW S1000 RR! We have taken BMW's S1000 RR and upgraded its comfort level with state of the art seats and a sport screen. We then gave the superbike some much needed protection like the Radiator & Oil cooler guards, axle sliders and engine case protectors. Just because its a sports bike doesn't mean you can't take anything with you while tearing up your favorite curves, we of course added our quick attaching sport tank bag that is just as sleek as BMW's sports motorcycle. Then we did a tail tidy conversion really cleaning up the rear end of this 2018 BMW S1000 RR Wunderlich Edition.
S1000 RR 2018 Wunderlich Edition
---
Please note: Products listed below is NOT filtered to show only products that fit a specific bike model. Parts listed below were used building this Wunderlich Edition. Please note multiple color options may be listed.
Here you can see the direct comparison to the original
---
BMW S1000 RR Wunderlich Edition
---
S1000 RR Sport Screen
Cut through the air like a hot knife through butter with our Sports Windscreen for the BMW S1000 RR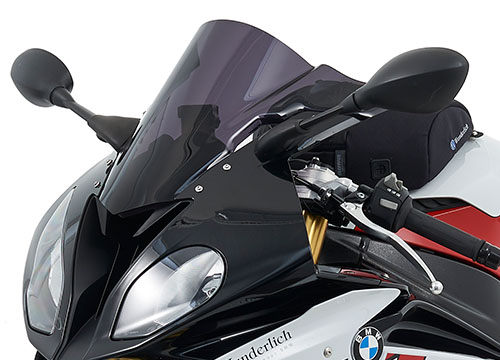 S1000 RR Sport Screen
This high end sports windshield has an optimal profile and uniformly distributes approaching air flow at any speed. For all R-bikers who like to drive quite fast and do not like to be without good wind protection. Also very tall riders can find good protection behind this windshield as well. The helmet area has considerably less turbulence thanks to the pronounced spoiler.
Optimal approaching flow without turbulence in a laying position. Uniform approaching flow in a sitting position.
High-end windscreen made of 3mm thick Lexan, scratch-resistant and break-proof
---
S1000 RR AKTIVKOMFORT Seats
Upgrade your BMW with our Wunderlich S1000 RR Seats with ThermoPro!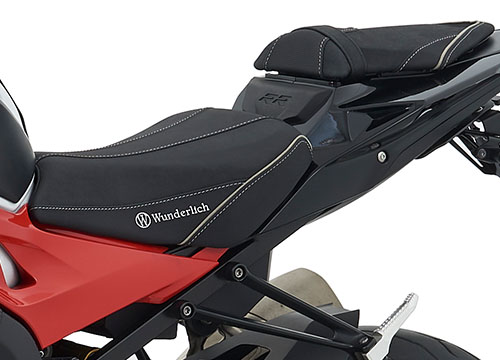 Rider & Passenger Seats
The ThermoPro AKTIVKOMFORT Sport Ergo seat delivers improved seat comfort and a better hold during hang-offs, thanks to the non-slip upholstery in the region of the thighs. Upon decelerating, more force is transmitted into the seat, which provides relief for all your muscles. The passenger seat is also available with the same improvements in terms of the non-slip covering material and striking styling.
Rider available in Standard and Tall Versions (20mm Higher)
Made in Germany
More comfort with ThermoPro: With the ThermoPro coating, the temperature of this seat in direct sun at the peak of summer is up to 25°C lower compared to standard, untreated cover materials.
---
BMW S1000 RR Tail Tidy
Adjustable Tail Conversion for your BMW Superbike!
Fully adjustable number plate carrier. The carrier can be adjusted in terms of tilt and proximity to the rear wheel. The plate carrier can also be shifted upwards, bringing it almost level with the tail.
Can be combined with the original tail, rear light and indicators, as well as the race hump (without original rear light).
With pull out indicator brackets for adapting to all number plate widths. Uses the hole pattern of the original plate carrier (no additional holes needed to be drilled.
---
Protection for your BMW S1000 RR
You asked for it, we listened! S1000 RR Protection to keep your Sports Bike Looking Good!
S1000 RR Radiator Cooler Guard
Finely meshed stainless steel grill with a sturdy anodized aluminum frame construction to protect the oil cooler.
The oil cooler on the S 1000 models lies in an extremely vulnerable position. Any stones sent flying into the air by the front wheel can come into immediate contact with the delicate cooler fins. On our first test bike, there was significant damage visible even during the breaking-in period.
A visual highlight: Covering the black radiators with our grills will transform the appearance of your bike!
S1000 RR Oil Cooler Guard
The oil cooler is well positioned for the onrushing air stream, unfortunately, the result of this is that anything carried by this stream finds its way into the cooler. Stones, insects and grime fill up the delicate fins of the cooler and cannot be removed without extensive labor, and usually the cooler fins bend and never look the same again.
This cooler guard uses a finely meshed grill that ensures the cooling properties remain unaffected. The size of the opening between the wires is 5mm square (3/16") and the grill is precision welded to the steel fame at several points. The entire assembly is powder coated and it will resist chips and remain in great conditions for many thousands of miles.
S1000 RR Axle Sliders
These protectors have proven themselves in the PowerCup race series.
Because the S1000 is so slim, the front spindle and the lower fork casting can be ground by the rough tarmac when sliding without this part installed.
The protectors effectively keep the road away from the motorcycle and significantly reduce the possibility of damage to the front.
Engine Case Protectors
Our S1000 RR crank case covers. Outstanding quality in functionality, design, material and manufacture. Milled from high grade, 7075 aluminum alloy and designed to protect your case should an accident happen. Protector is very light weight and of superb finish. These protectors will save your crank case from scuffs to more significant damages on impact. The design of the cover evenly distributes the force of impact, improving engine survivability and also adds a nice sporty touch to the appearance.
---