Scroll Down to View All The Parts on Our Wunderlich Edition
F850 GS Wunderlich Edition!
The new Adventure models
The long-awaited products were presented at the EICMA trade show in Milan: The completely redeveloped and promising new GS models BMW F 750 GS and BMW F 850 GS.
We have a large product portfolio covering safety, ergonomics, optics, protection, luggage and more for the new BMW F 850 GS. More products are in development; so our range is steadily growing.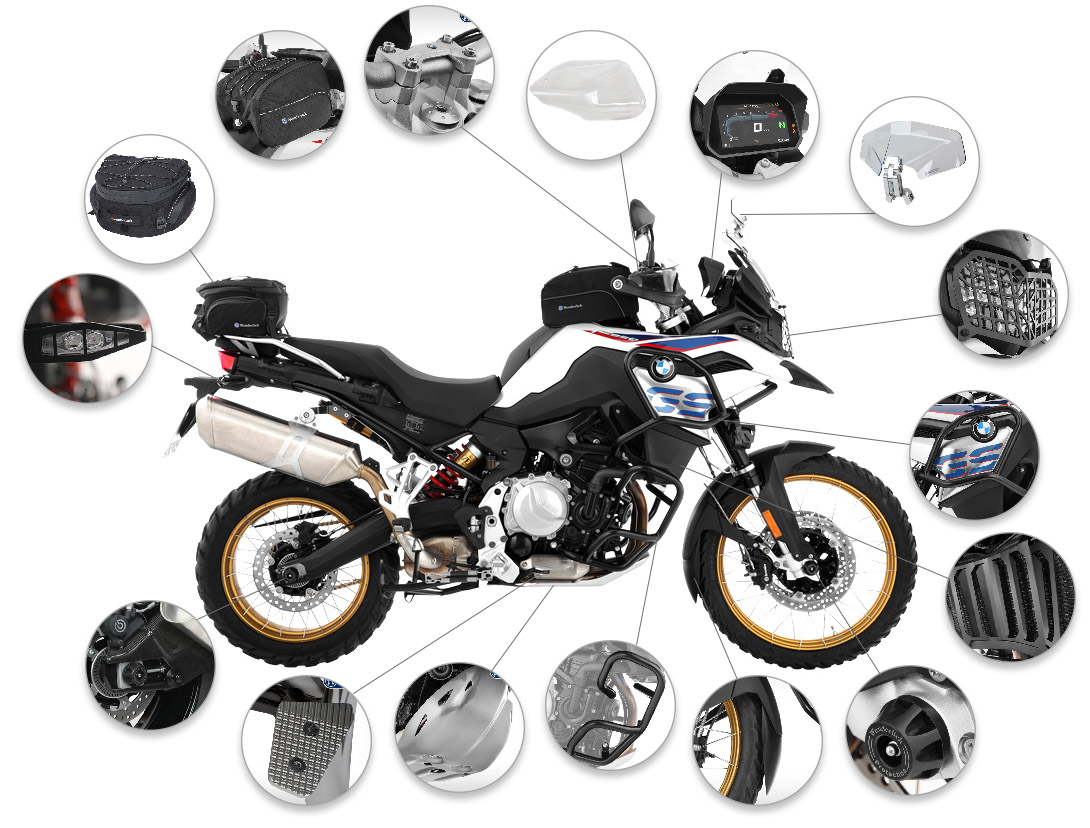 F850 GS Wunderlich Edition
---
Please note: Products listed below is NOT filtered to show only products that fit a specific bike model. Parts listed below were used building this Wunderlich Edition. Please note multiple color options may be listed.
Here you can see the direct comparison to the original
Being a balanced, all-round enduro, the F 750 GS has sufficient performance, a comfortable seat height and a high level of efficiency, while the more powerful F 850 GS the emphasis is on higher performance, more torque, even more distinct touring enduro characteristics and, with a 21" front wheel, primarily on greater offroad capability.
The new 853 ccm engine provides 77 hp in the 750 variant, while its big brother boasts 95 hp. The brand-new engine with a 90° crankpin offset and 270/450° ignition sounds as robust as a 90° V2, which isn't bad at all!
One aspect that's no less unobtrusive is the fact that BMW has now also opted for a welded bridge frame in this class; a lattice frame is yesterday's news. A variety of available driving modes and the automatic stability control (ASC) provide a high level of safety, and the new LED headlamp and the TFT displays are also optional extras. New colours, new shapes and the new Rally and Exclusive style variants translate into an exciting new appearance. Numerous other features including Keyless Ride, Shift Assistant Pro, Dynamic ESA, eCall, Connectivity and much more besides await buyers of the new F models.
---
The Wunderlich core competencies
---
Ergonomics
Personalize your ride comfort just for you!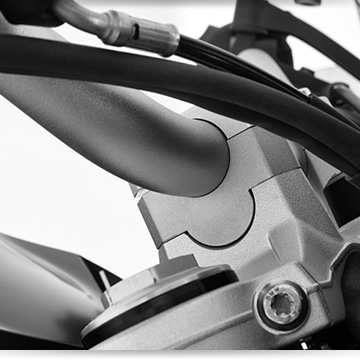 Life for Adventure bike ownershasn't exactly gotten easier in the last few years. Where the average seat height for a motorcycle in the Eighties was between 750 mm (29.5") and 800 mm (31.5"), today riders have to climb onto a seat with an average height of 800mm (31.5") to 850 mm (33.5"). The standard F 850 GS even allows riders to sit at the towering height of 860 mm (33.85").

Not long after the market launch, we are already offering high-quality components for the new F models: windscreens and hand guards to protect against wind, weather and troublesome turbulence, handlebar risers for relaxed sitting and driving while standing, ergonomic seats and footrest systems for a relaxed knee angle, and much more besides.
---
All-round protection and safety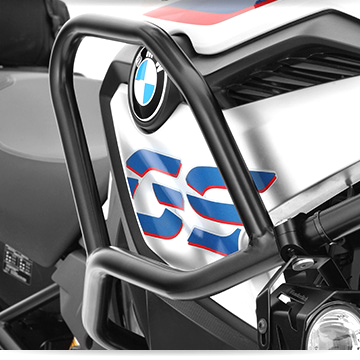 If you're one for riding your GS offroad, we offer excellent components to protect your GS. No matter whether you need an engine protection bar or a tank protectionbar, engine and manifold protection,axle sliders or our cooler protection, our equipment helps prevent serious and costly damage to your bike should the worst happen. What's more, our high-quality protective components help to prevent damage to the engine, components (e.g. on the exposed water pump), and rider, so that you can continue on your travels despite crashing. An important aspect – andnot just for long-distance riders stranded off-road.
Our side stand enlarger is naturally a must-have piece of equipment on every Adventure bike: The bike remains in a secure upright position evenwhen fully loaded, whatever the surface.
---
Innovative luggage solutions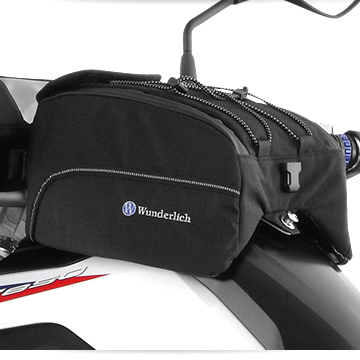 Wunderlich is known for its innovative luggage solutions which are specially designed for BMW motorcycles. This includes the absolute all-rounder among tank bags: the extremely adaptable Elephant tank bag. It's all the same whether it's a card slot or a photo insert, there's nothing that doesn't exist. For everyday riding, we recommend the Sport tank bag or even the practical Elephant tail bag.
---
Mission d'Agadir
A successful Dirk Thelen at the Enduro d'Agadir
Wunderlich, the BMW motorcycle accessories specialist, has an absolute specialist for demanding rally and enduro events. The German based company relies on its pleasant and calm works rider Dirk Thelen, who is a several-times German Enduro champion from the Eifel region. He's always top notch when it comes to tricky, challenging offroad tasks.
For Dirk Thelen, things are only heading in one direction: forwards, onwards and upwards. Where other participants of the four-day long Enduro d'Agadir overcome rocky gravel, sandy pistes and wet-clay mud with their hard Enduros, the four-time German Enduro champion effortlessly sets the pace – atop the new F 850 GS. A long-distance touring enduro subjected to a brutal test and terrain, right through Morocco.
And this year was no different: after 2011 (on a BMW F 800 GS), 2012 as the winner (on a BMW X 450) and 2013 (on a BMW R 1200 GS LC), Wunderlich again lined up to take part in the Enduro d'Agadir together with Dirk from 6 to 9 March 2018.
Meanwhile, BMW Motorrad wanted to put the sporty F 850 Touring Enduro through an ultimate endurance test. The machine, which received a great deal of attention at the 2017 EICMA trade show, was close to its market launch. So both companies decided to start an exciting joint initiative. BMW Motorrad provided the brand-new BMW F 850 GS for the Agadir event, while Wunderlich nominated Dirk Thelen as its rider for the Enduro d'Agadir after he meticulously prepared the bike on Wunderlich's premises for the event.
Dirk remarks: The new BMW F 850 GS is a touring enduro which is suitable for long distances in a field of wild sports enduro machines. Our bike weighs nearly 230 kg and has an engine performance of 95 hp. All of the competitor machines weigh 120 kg, and their engine performance varies between 40 and 55 hp. What makes Agadir so appealing is the fact that you can ride a BMW touring enduro and perfectly illustrate that you're still completely competitive within an equally challenging offroad and sports terrain.?
The Enduro d'Agadir started on 6 March 2018 and, in four daily stages measuring between 174 and 239 kilometres long, took riders on a triangular journey between Morocco's port city of Agadir, Tafraoute in the country's south-east, and Tiznit. Both the start and the finish are in Agadir, on the shore of the Atlantic Ocean. Situated at a height of roughly 1000 metres, Tafraoute in the south-east is in the Anti-Atlas mountain range, a rocky landscape of shimmering red granite that is as barren as it is impressive. From there, the route headed west, through Tiznit at the base of the Anti-Atlas mountains. It then took riders north and back towards Agadir.
Dirk Thelen at the Enduro d'Agadir on YouTube
---