Scroll Down to View All The Parts on Our Wunderlich Edition
BMW G 310 GS - The beginner in the GS family
As expected and didn't take long - shortly after the market launch of the G 310 R, BMW provided the small roadster as an adequate GS. BMW and GS are terms which inevitably belong together and so the Bavarians entered the targeted segment under 500 cc with a GS.
BMW succeeded! The G 310 GS, which is based entirely on the big GS in its purpose, looks quite like a full sizedmotorcycle or, as BMW says, like a "real GS". The characteristic high front fender (popularly called "duckbill") reminds one of the big brother as well as the side radiator cowlings or the short, high tail section. The entry-level GS is just 13mm (1/2") shorter than the 1200 and its seat height is only 15 mm (6/10") lower.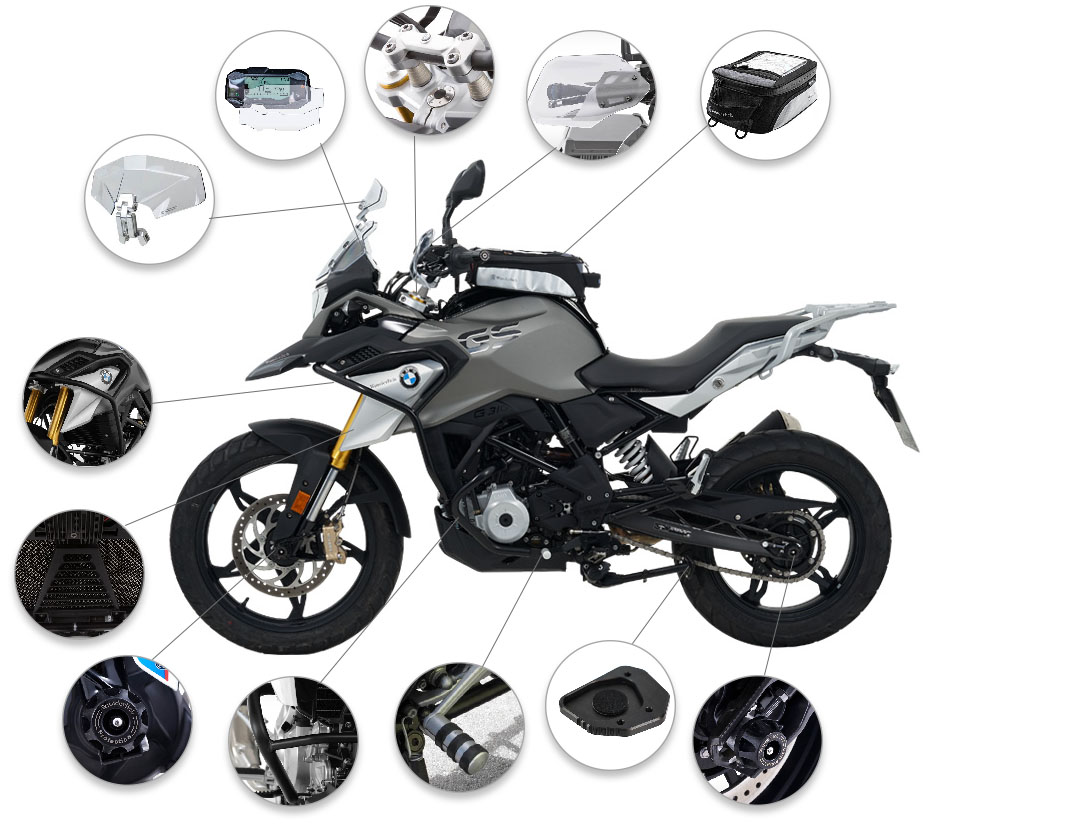 G310 GS Wunderlich Edition
---
Please note: Products listed below is NOT filtered to show only products that fit a specific bike model. Parts listed below were used building this Wunderlich Edition. Please note multiple color options may be listed.
Here you can see the direct comparison to the original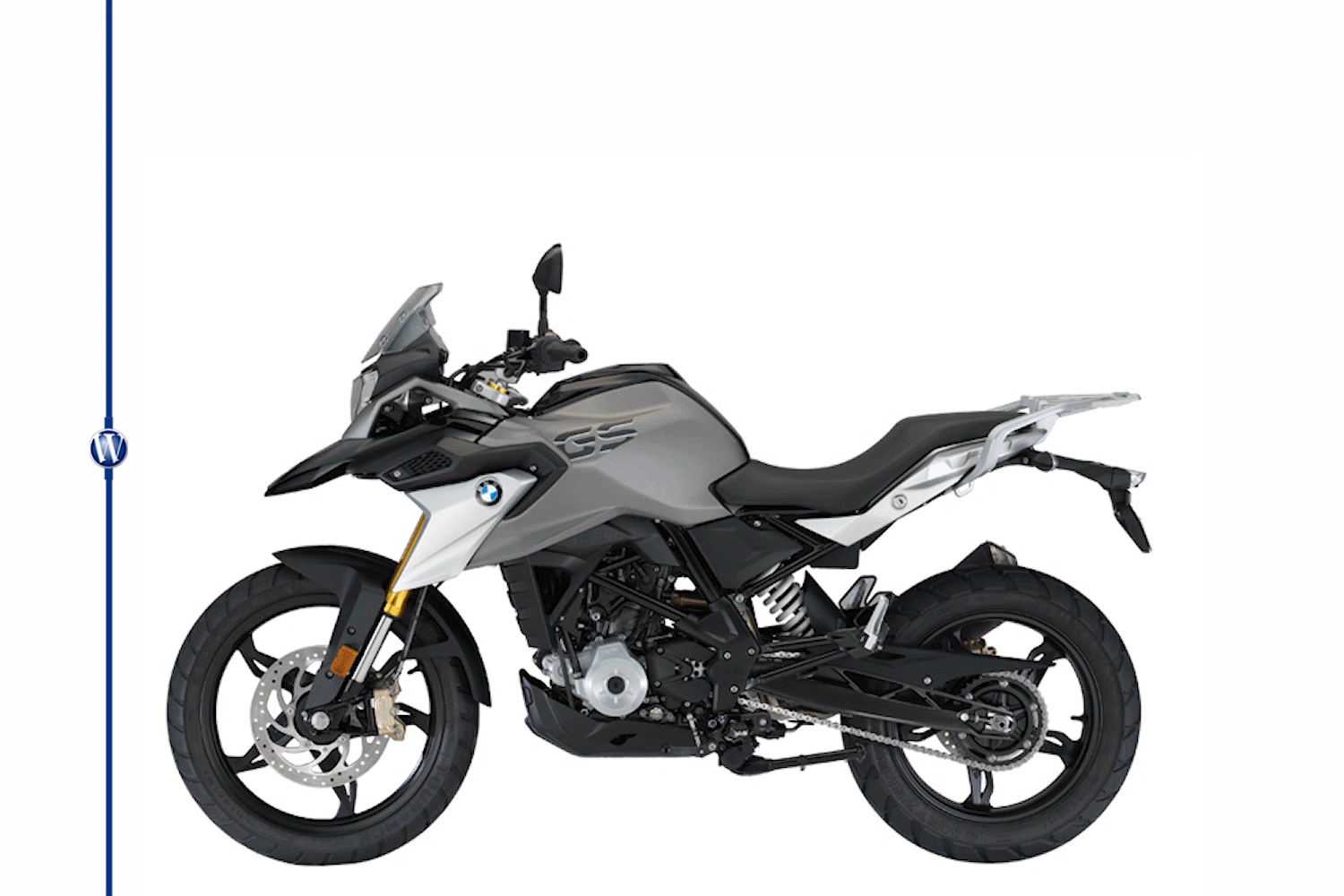 At first glance, some may mistake the single-cylinder GS for its two-cylinder counterparts. At second look, however, it becomes clear that is a single. This is where the G 310 GS distinguishes itself. With 34 hp from its 313 cc there is sufficient power to to propel this 169.5 kg (374 lb) lightweight. Although brisk progress in urban space and relaxed curves on the track, exuberant driving dynamics, however, looks different. The question is: do you always need them?
We mean no. The playful handling in combination with the comfortable seating position and the general lightness of a 300er can compensate for the missing performance. Who goes on terrain beyond the asphalt, usually does not necessarily need the steam hammer. There is a full-fledged motorcycle with a modern single-cylinder engine, a standard, shut-off ABS, a 19-inch front wheel, led by a 41 mm upside-down fork with 180 mm travel and a fairly extensive instrumentation. Even in detail, the Bayern could not be ragged. Jagged footrests, steel flex lines, luggage rack, LED tail light, smoke gray turn signal lenses and much more are already part of the basic equipment.
Incidentally, the G 310 GS is being built by the BMW partner TVS in Bangalore, India - just like the 300 Roadster - according to German quality criteria. The hermetically sealed production corresponds to the Berlin-Spandau model and we can well imagine that in the state-of-the-art facilities there will certainly be other models with the 313 cc aggregate.
Our first impression and the first tests with the 310 were surprisingly positive. The GS is currently a regular in our development department and we are working hard on exciting ideas for this light and universal motorcycle. Look forward to it, we will report!
---
Ergonomics
Personalize your ride comfort just for you!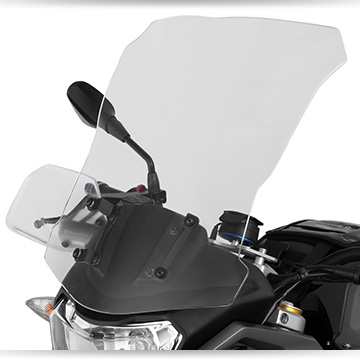 Life for motorcyclists of different height or stature has not become much easier in recent years. The average seat height of a motorcycle in the eighties was still between 750 mm (29.5") and 800 mm (31.5"), today you climb on average to 800 mm (31.5") to 850 mm (33.5") in height. And even the lightweight G 310 GS brings it to a respectable 835 mm (32.9") in the series trim.
Shortly after launch, we began offering high-quality components for the G models: windshields and handguards for wind, weather protection, handlebar risers for relaxed sitting and riding while standing, ergonomic seats and footrest systems for a relaxed knee angle, and much more.
---
Total protection and security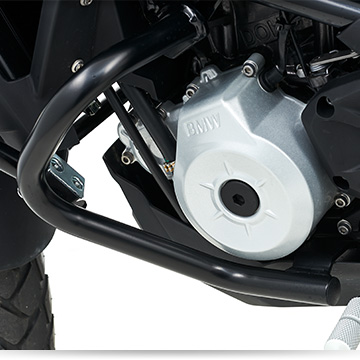 If you move your G 310 GS away from paved roads, we offer excellent components to protect your motorcycle. Whether engine or tank guard, engine and manifold protection, axle sliders or our radiator protection, in case of a case they avoid major, costly damage to the machine. What's more, our high-quality protective components help prevent damage to the engine or components (for example, the exposed water pump), so that, despite a fall, it is absolutely essential to continue riding. An important aspect, not only for long-distance travelers who are stranded off road ...
Of course, our side stand enlarger can not be missing on any enduro: no matter the surface, the machine will stay securely even when fully loaded.
---
Innovative luggage solutions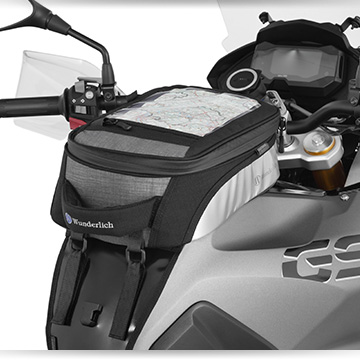 Wunderlich is well-known for its innovative luggage solutions specialized in BMW. This includes the classic among the tank bags: the extremely adaptable Mammoth Retro Tankbag or Retro Tank Bag. No matter if it's a card slot or photo insert, we have it covered! We also offer an assortment of side bags and tail bags.
---