Description
Reviews
Video
Accessories
Bike Fitment
Description
---
Helite E-Turtle 2 Electronic Wireless Airbag Vest
Available in: Black or HI-VIS

HELITE E-Turtle airbag technology - The highest level of safety for motorcyclists. Practical, lightweight and discreet, airbag protection can save a rider's life, or at the very least save one from serious injury. The vest guarantees premium protection without sacrificing comfort. HELITE airbag protection can be worn by a rider, as well as a passenger, no matter if you ride a motorcycle, scooter, or ATV.
The HELITE E-Turtle vest provides a rigid neck brace, as well as firm support to the spine and back, chest, rib and kidneys, and even hip and pelvic protection.

The world's fastest selling airbag product – the Helite Turtle 2 has now gone wireless!!

The NEW Helite E turtle incorporates the same iconic design as the Helite Turtle 2 with the added benefit of autonomous inflation of the wireless, electronically activated airbag.

The E turtle incorporates algorithm technology into the vest which analyses the user's movements and automatically triggers the airbag to inflate in less an 80ms. Detection also includes loss of control and accidents where you may not separate fully from your motorbike.

Technical Features
TURTLE CE Certified Airbag which is fully inflated in less than 0.08 seconds

SAS-TEC level 2 back protector 1621-2 certified EC, removable
Battery Life: 25 Hours USB Charging Mechanism
Inner Textile 3D Mesh to Maintain Good Air Circulation
Simple and intuitive wireless, electronically activated airbag system

shower proof & suitable for use over any type of garment

Textile 600D to effectively resist abrasion
Retro-reflective tape to be seen at night
Interior textile 3D mesh for comfort
Clear underarm for freedom of movement
Robust front clips, easy to open and close
Adjustment straps to adjust the width at least 3-4"
1 E-CO2 cartridge
NOTE:
The E-Turtle vest is not recommended for riders with a one-piece race suit with a back hump.
For sizes S-XL only use the E-60CC CO2 Cartridge
For L-L and XL-L only use a E-100CC CO2 Cartridge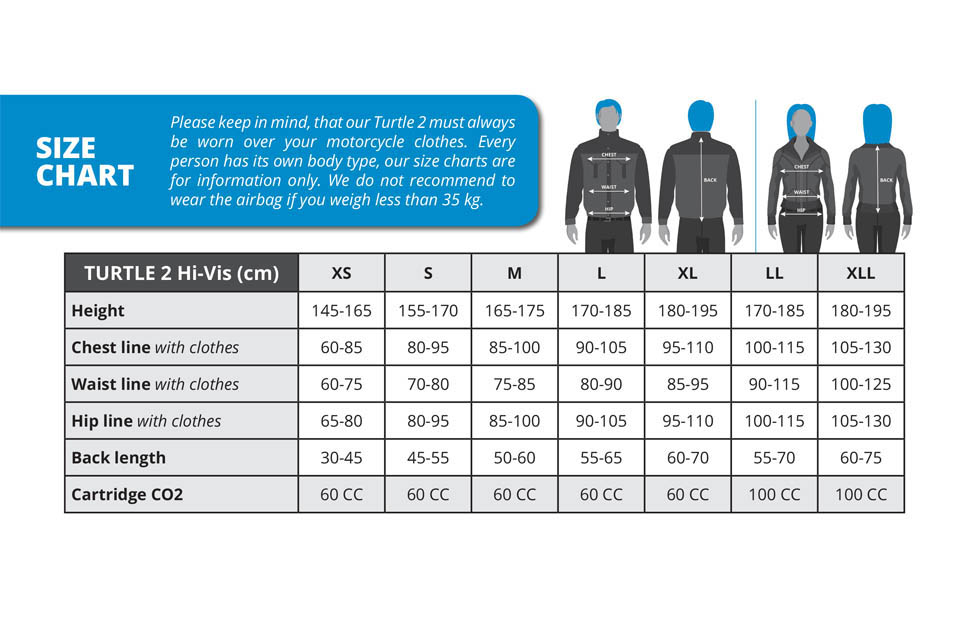 ---
Related & RecommendedProducts
Fitment not model specific.