Scroll Down to View All The Parts on Our Wunderlich Edition
BMW R nine T Scrambler Green Hell Wunderlich Edition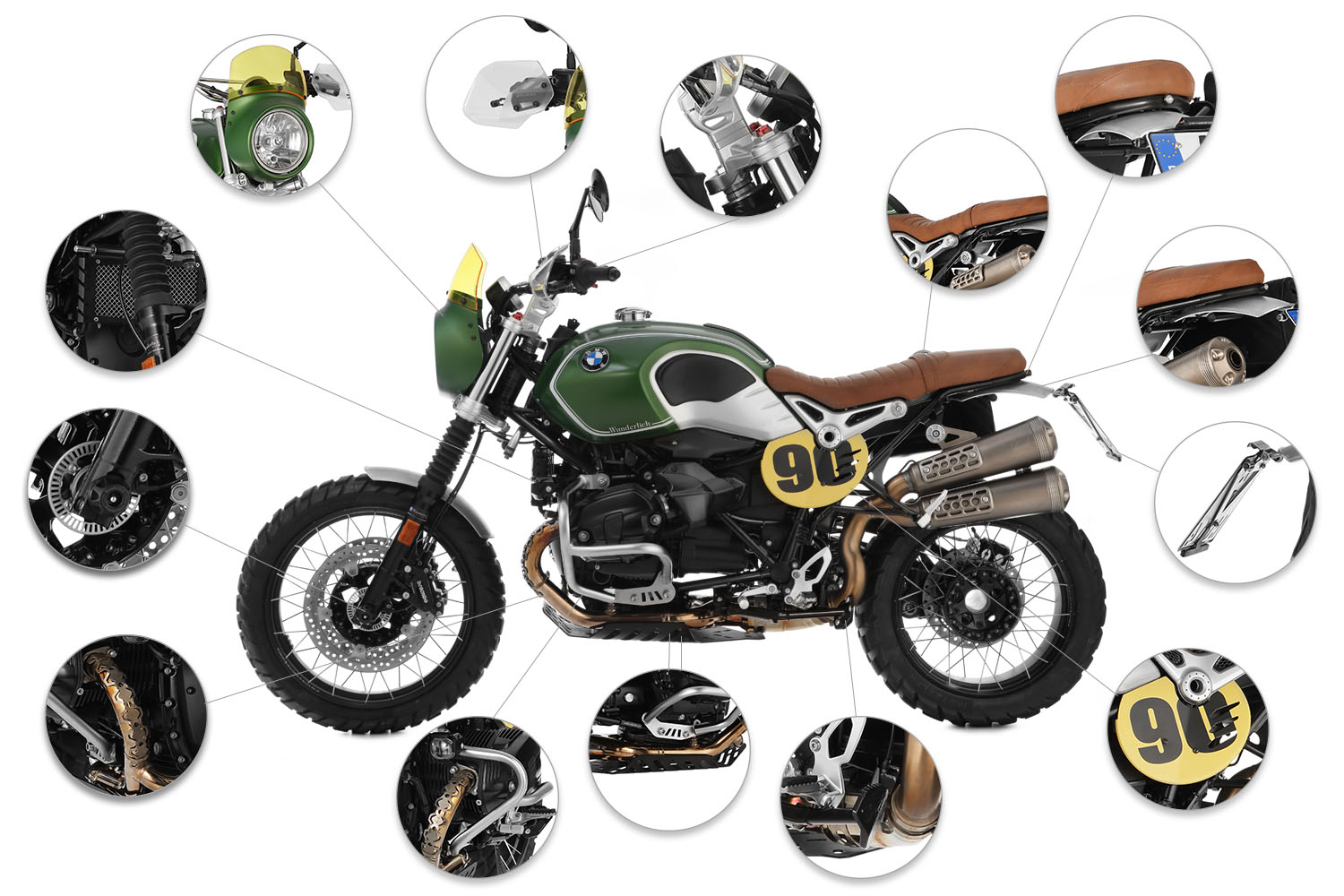 BMW R nine T Scrambler Green Hell Wunderlich Edition
Wunderlich is proud to showcase out customized BMW Scrambler we call the Green Hell. We have taken BMW's R nine T Scrambler and created with many of our bolt on accessories a truly unique Scrambler build. We have added many protection components you want for your BMW R nineT Scrambler like engine bars, header protection, oil cooler guard, a solid skid plate, sliders, brake protection and much more. Some of the vintage design components we have added include our Number Plate, our Vintage TT Fairing and Windscreen, Bar end indicators, a tail conversion, seat, six days passenger frame, a vintage style six days handlebar and more. We have upgraded some parts and components to make the R nine T Scrambler even better, our vario brake and clutch levers, side stand enlarger, gear and brake lever enlargers, handlebar risers, luggage system and more.
R nineT Scrambler Green Hell Wunderlich Edition
---
Please note: Products listed below is NOT filtered to show only products that fit a specific bike model. Parts listed below were used building this Wunderlich Edition. Please note multiple color options may be listed.
Here you can see the direct comparison to the original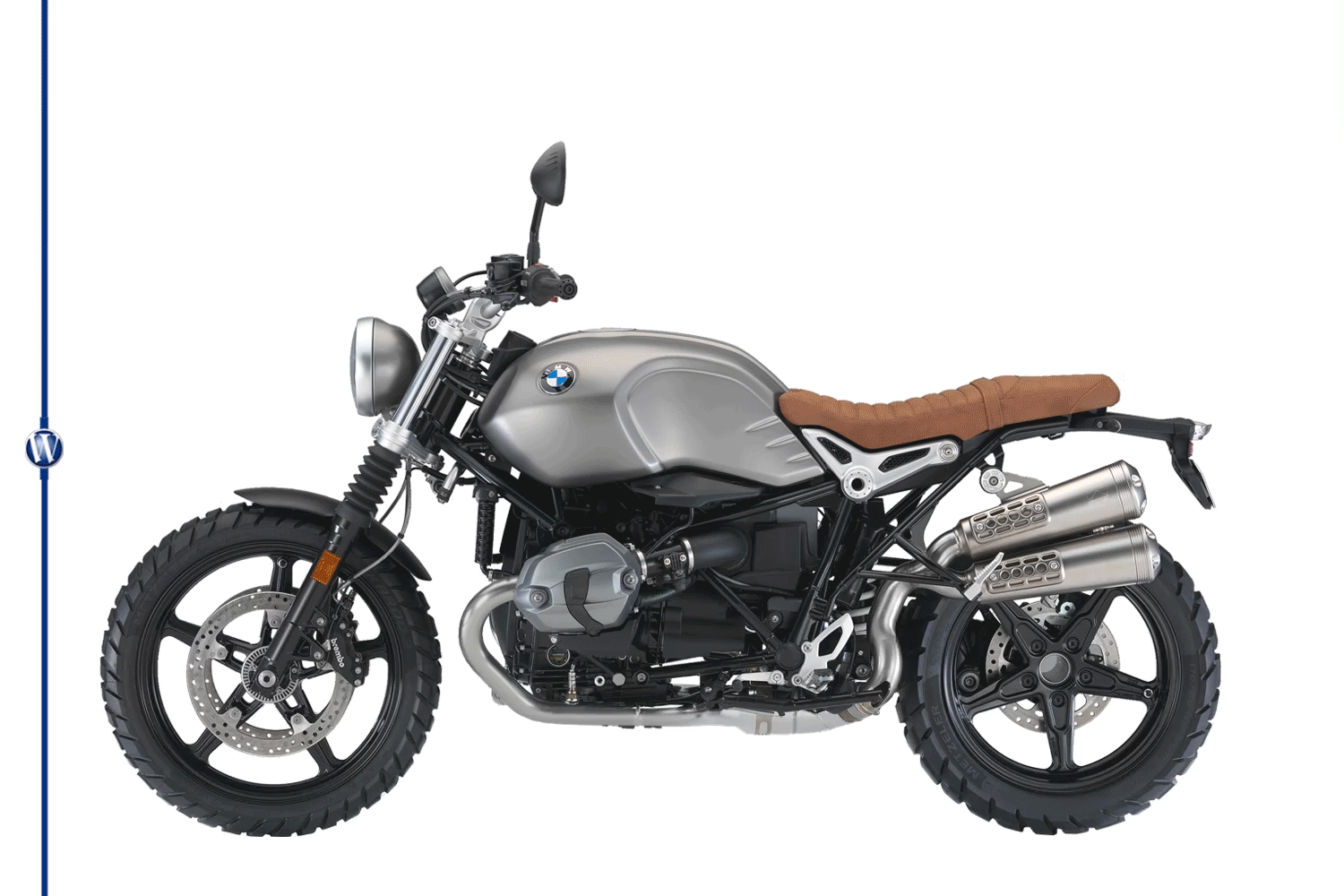 ---
BMW R nine T Scrambler Green Hell Wunderlich Edition
---
R nine T Scrambler Green Hell TT Fairing and Screen
Add a classic look to your R nine T Scrambler Build with our TT Fairing
Vintage TT Fairing
Available in: Unpainted, Monolith or Stereo Metallic Matte
This minimalist headlight fairing presents the ideal compromise between full-windscreen and naked Roadster feeling. The Retro-Design complements the R nineT in an ideal way. Once you have added a windscreen (sold separately) there is a noticeable decrease of wind pressure, especially at constantly high cruising speeds. Light and virtually indestructible ABS plastics. Easy assembly.
Vintage TT Screen available in Clear or Tinted
Made in Germany
---
R nine T Scrambler Protection
Header Protection, Skid Plate, Engine Bars, Oil Cooler Guard and more!
Header Protection
The exposed header pipes are in the direct firing line of anything that the front wheel and other vehicles in front of the bike throw up. To prevent this we created a clever protector that exactly matches the curve of the tube, made of extremely resistant aluminum alloy. It can be fitted to the original or after market Sport exhaust header systems.
Oil Cooler Guard
This cooler guard uses a finely meshed grill that ensures the cooling properties remain unaffected. The size of the opening between the wires is 5mm square (3/16") and the grill is precision welded to the steel fame at several points. The entire assembly is powder coated and it will resist chips and remain in great conditions for many thousands of miles.
R nine T Scrambler Crash Bars
Custom-made crash bar for optimal protection and an extraordinary look - safe, light and easy to maintain. Made from German precision steel tube, Wunderlich stands for tradition and for the best crash bar! The traditional shape has been further developed, both technically and visually.
BMW R nine T Scrambler Skid Plate
A good Enduro should always have solid engine protection too. You can confidently dispose of the original plastic elements from BMW, now there are aluminum alternative from BMW and Wunderlich. Both fundamentally solid constructions that sufficiently protect the engine and the front manifold area. The BMW version fits a little higher on the front, while the Wunderlich version comes with an additional support frame that helps prevent the thread in the engine block being torn off in the event of heavy contact with the ground.
---
BMW R nine T Design
Tail Conversion, Number Plate, Seat, Passenger Seat Frame, Fenders and More!
BMW R nine T Scrambler Side Number Plate Set
These visually striking start number panels of brushed aluminum help perfect the optics of the R nineT. The distinctive plates are secured by high quality stainless steel holder to secure in place.
BMW R nine T Scrambler Wunderlich One Piece Seat
Thoughtfully designed with many innovative solutions. This one-piece seat comes with a custom crafted contoured foam core with a highly durable material construction. The seat pan was also developed in house using our state of the art techniques from our design team
BMW R nine T Scrambler Wunderlich SIXDAYS Seat Frame
This beautifully designed tail for the R nineT consists of a semi-circular frame closure that mounts easily and with a perfect fit thanks to conical adapters as well as an expensively worked cover plate that is mounted with a precise fit and unobtrusively under the seat.
BMW R nine T Scrambler Wunderlich Classic Rear Fender
This sturdy, yet lightweight mudguard made of brushed aluminum replaces the original. The visually refined protective guard is fixed firmly in place with 2 screws. This ensures easy mounting.
BMW R nine T Scrambler License Plate Adapter - Retrosport
Sophisticated yet stable. The sophisticated RETROSPORT license plate holder adds to our SIXDAYS tail section. Combining the two results in an attractive, visually light, reduced tail that lets you emphasis the classic look of the R nineT with a touch of individuality. In keeping with this, the cable can be installed out of sight inside the arm of the stabilizer. The corresponding, discreet and E-tested reflector integrates into our design. The structural design and the use of high-quality stainless steel ensure the adjustable license plate holder possesses the necessary rigidity and stability.
---
R nine T Scrambler Luggage Solutions
You asked for it, we listened! We are excited to announce our R nine T Scrambler Retro Side Bag System!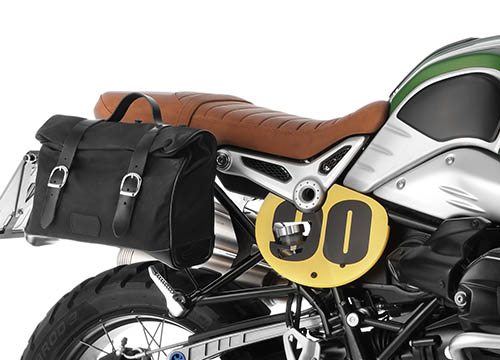 These stylish, side bags for left and right made of waxed cotton aren't just a practical luggage solution, they also lend the R nineT an appealing, laid-back look.
The real leather applications emphasis the value, the resistant inner lining turns the bags into robust use items. A zip closure as well as two wide leather straps close the bags reliably and with style. The contents of 9.5 litres per bag can be protected against all weathering with optional water-tight interior bags.
The modern classics are attached with simple to use and secure Tenax quick releases on discreet stainless steel carriers that look great even without the bags.
---