Scroll Down to View All The Parts on Our Wunderlich Edition
BMW R nineT Scrambler Wunderlich Edition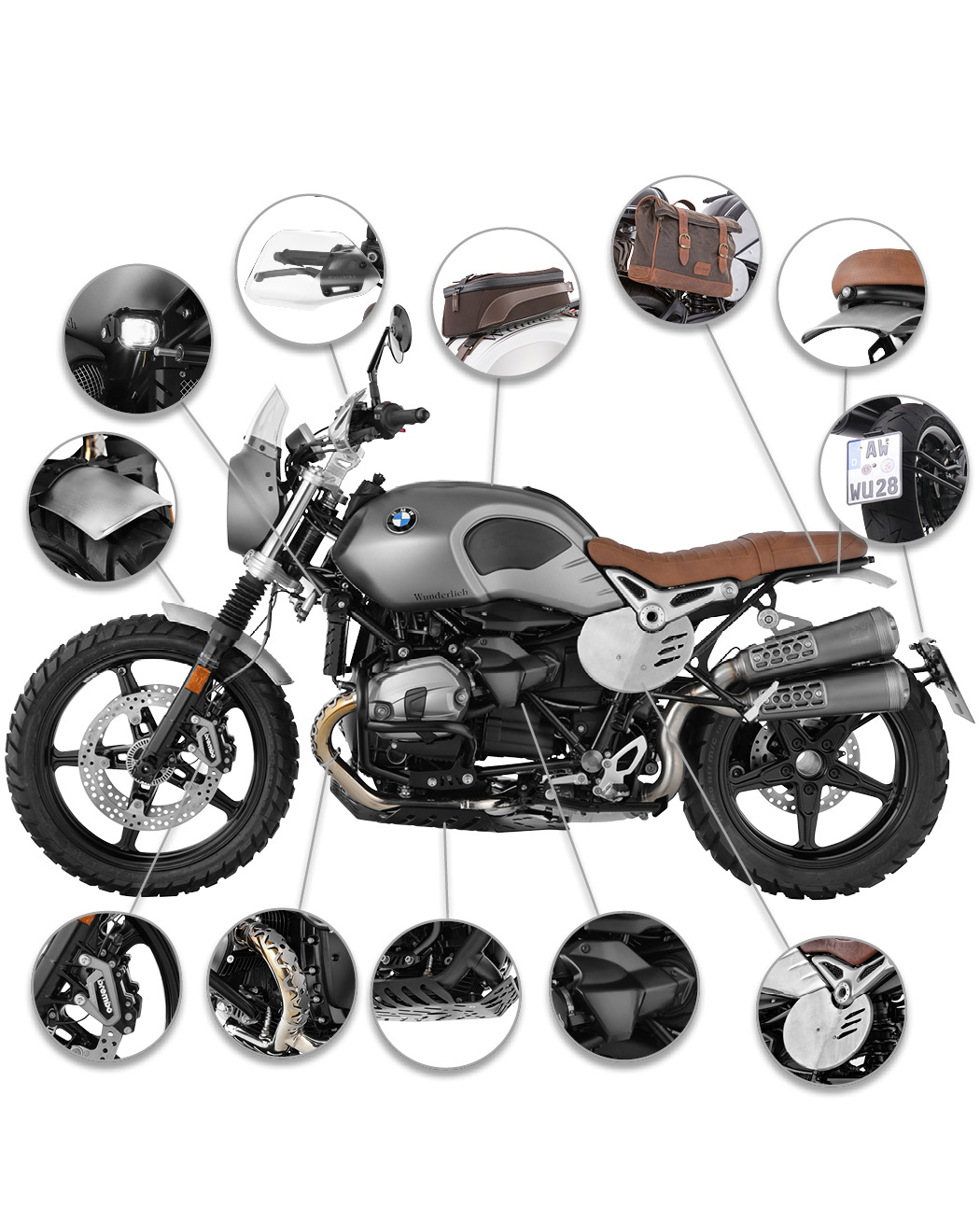 With the presentation of the first R nineT model it was clear that BMW would follow up with other versions of this hugely successful modern classic. The Roadster was very well received, particularly by customers who really took to the new model and created their own fascinating conversions, including an entire range of highly appealing scramblers. It is therefore no surprise that the Bavarians have created a scrambler as the first design variant.
R nineT Scrambler Wunderlich Edition
---
Please note: Products listed below is NOT filtered to show only products that fit a specific bike model. Parts listed below were used building this Wunderlich Edition. Please note multiple color options may be listed.
Here you can see the direct comparison to the original
---
BMW R nineT Scrambler — remembering the sixties
Upright seat position, dual-sport tires, high exhaust and wide handlebars, as well as longer spring travel, these are the hallmarks of a scrambler. Back in the sixties, American hobby riders used to bring their converted two-wheelers to mountain and road races. Although it later gave way to the enduro class, the Scrambler is experiencing something of a renaissance today and is in higher demand than ever.
With the RnineT Scrambler, BMW has tapped into this current demand with pinpoint accuracy. High exhaust, 19-inch front wheel, new steel trellis frame, telescope fork with gaitors, higher handlebars, as well as several additional modifications, ensure that everything on the scrambler is a harmonious match.
Of course, we have also adopted the R nineT Scrambler by custom-designing attractive, smart accessories for this unique bike. Our engine protection, crash bars and manifold protectors provide extra safety on the road, while our license plate holders, racing plates and more ensure a totally individual and refreshing look. Of course, we also have excellent luggage solutions in our repertoire. Our Retro tank bag and luggage bags aren't just practical, they look great too.
---
Ergonomics.
Personalize your ride comfort just for you!
Life for motorcyclists below or above today's standard size has not become much easier in recent years. The average seat height of a motorcycle in the eighties was still between 750 mm (29.5") and 800 mm (31.5"), today you climb on average to 800 mm (31.5") to 850 mm (33.5") in height. On a standard R nineT Scrambler you are enthroned even in 820 mm (32.3") height.

Shortly after the market launch, we offer high-quality components for the Scrambler model: windshields and handguards for wind, weather protection, handlebar risers for relaxed sitting and riding while standing, ergonomic seats and footrest systems for a relaxed knee angle, and much more.
---
Total protection and security
If you take your Scrambler away from paved roads, we offer excellent components to protect your R nineT. Whether engine or tank guards, engine and manifold protection, axle protection pads or our radiator protection, in case of a mishap they avoid major, costly damage to the machine. What's more, our high-quality protective components help prevent damage to the engine or components (for example, the exposed water pump), so that, despite a fall, it is absolutely essential to continue riding. An important aspect, not only for long-distance travelers who may get stranded off road.
Of course, our side stand extension can not be missing on any enduro: no matter the surface, the machine will stay securely even when fully loaded.
---
Innovative luggage solutions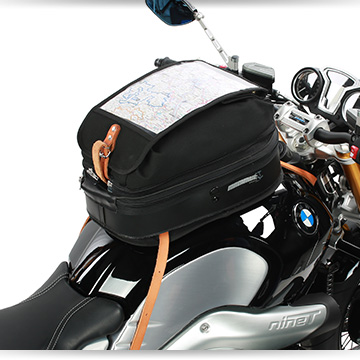 Wunderlich is well-known for its innovative luggage solutions specialized in BMW. This includes the classic among the tank bags: the extremely adaptable Mammoth Retro Tankbag or Retro Tank Bag. No matter if it's a card slot or photo insert, we have it covered!We also offer an assortment of side bags and tail bags.
---
Some images for R nineT Scrambler:


| | | |
| --- | --- | --- |
| | | |
| | | |
| | | |