Scroll Down to View All The Parts on Our Wunderlich Edition
BMW R nineT Wunderlich Edition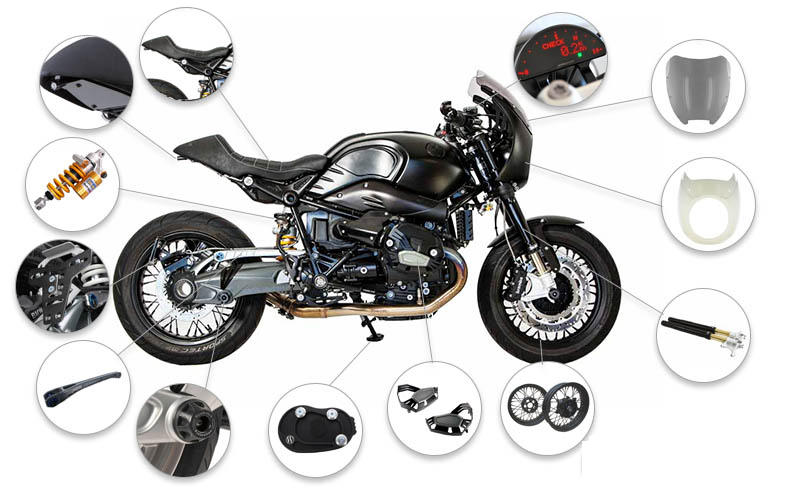 R nineT 2014-2016 Wunderlich Edition
---
Please note: Products listed below is NOT filtered to show only products that fit a specific bike model. Parts listed below were used building this Wunderlich Edition. Please note multiple color options may be listed.
Here you can see the direct comparison to the original
---
Rnine T 2014-2016
From the ashes of a stock R nineT, rolled out a beemer so dark and nimble that one would suffer in purgatory for eternity after its encountering. The Wunderlich R nineTeufel (devil) is a city street hooligan machine that was built to be ridden like a bat out of hell, thanks to the Öhlins suspension package and adjustable paralever arm allowing you to achieve full chassis tuning so you can roll into every corner with confidence. The triple black Italian Kite wheels are not only lighten slightly and stronger, but they are also tubeless giving you retro styling with modern reliability. The Teufel was equipped with a Wunderlich performance controller, air filter, and a Remus exhaust to squeeze as much power as possible from the DOHC boxer without splitting the case. With HP and torque increased, the brakes were also upgraded to TRW floating rotors to ensure optimal cooling under extreme braking.
The Passenger seat, pegs, and sub frame were completely removed to make way for the Wunderlich solo seat and the huge weight savings that comes with it. The license plate was relocated to the final drive and the taillight and turn signals were hidden but still noticeable when necessary. The handlebars were replaced with a narrower sportier bend bar, allowing for a sportier ride without compromising comfort. The levers and bar end mirrors are fully adjustable and black, completing the "back-in-black" theme and giving a final attitude to this black devil.
The Tueful has turned heads nationwide, no matter where it is people are drawn to it. From magazine articles to motorcycles shows, the Wunderlich Tueful has proven itself to be another one of our world class Beemer builds. Even though our attachment to this machine is imperishable and we'd hate to see it go. The bike deserves a new owner who can appreciate the true beauty of this beast and ride it like a bat out of hell!
---
Some images of the RnineTeufel


| | | |
| --- | --- | --- |
| | | |
| | | |
| | | |