Scroll Down to View All The Parts on Our Wunderlich Edition
K1600 GT Wunderlich Edition
Our product range for BMW's powerful six-cylinder Grand Tourer is extensive: Whether it's additional practical luggage solutions such as tank bags or handlebar and cockpit bags, various safety and protection components, the effective Extender Fender or the helpful, aspherical mirrored glasses. We offer a whole heap of solutions in the areas of ergonomics, safety and luggage. We make your Grand Tourer even more comfortable, more functional and more individual.
Even in future model years for the six cylinder we will continue to come up with new ideas to make the best tourer in the world just that little bit better - stay tuned!
K1600 GT 2017 Wunderlich Edition
---
Please note: Products listed below is NOT filtered to show only products that fit a specific bike model. Parts listed below were used building this Wunderlich Edition. Please note multiple color options may be listed.
Here you can see the direct comparison to the original
---
The Wunderlich core competencies
---
Ergonomics
Personalize your ride comfort just for you!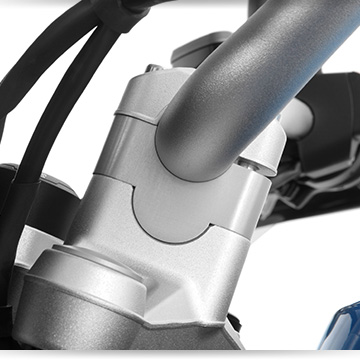 Life for motorcyclists of different height or stature has not become much easier in recent years. The average seat height of a motorcycle in the eighties was still between 750 mm (29.5") and 800 mm (31.5"), today you climb on average to 800 mm (31.5") to 850 mm (33.5") in height. On a standard K 1600 GT you are enthroned even in 810 mm (31.9") height.
Shortly after the market launch, we offer high-quality components for the K 1600: windshields and hand guards against wind, weather and annoying swirls, handlebar raises for relaxed sitting and driving while standing, ergonomic seats and footrest systems for a relaxed knee angle and much more.
---
All-round protection and safety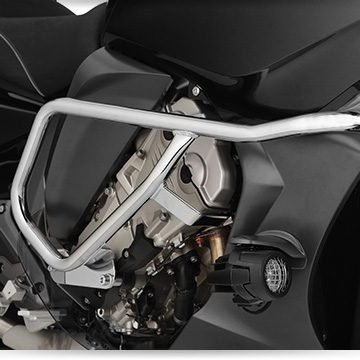 If you move your Enduro away from paved roads, we offer excellent components to protect your GT. Whether motor or tank guard, engine and manifold protection, axle protection pads or our radiator protection, in case of a case they avoid major, costly damage to the machine. What's more, our high-quality protective components help prevent damage to the engine or units (for example, the exposed water pump), so that it is essential to continue driving despite a fall. An important aspect, not only for long-distance travelers who are stranded in the desert ...
Of course, our side stand extension can not be missing on any enduro: no matter on what kind of surface, the machine will stay securely even when fully loaded.
---
Innovative luggage solutions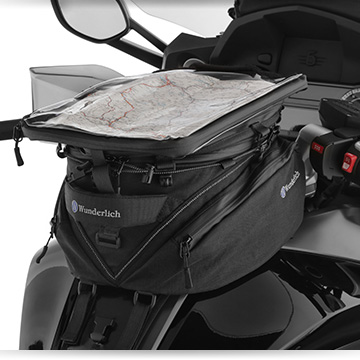 Wunderlich is well-known for its innovative luggage solutions specialized in BMW. This includes the all-rounder among the tank rucksacks: the extremely adaptable ELEPHANT tank rucksack. No matter if it's a card slot or photo insert, there is nothing that does not exist. For everyday trips, we recommend the tank bag Sport or the practical, functional rear bags.