Scroll Down to View All The Parts on Our Wunderlich Edition
BMW R1250 R Wunderlich Edition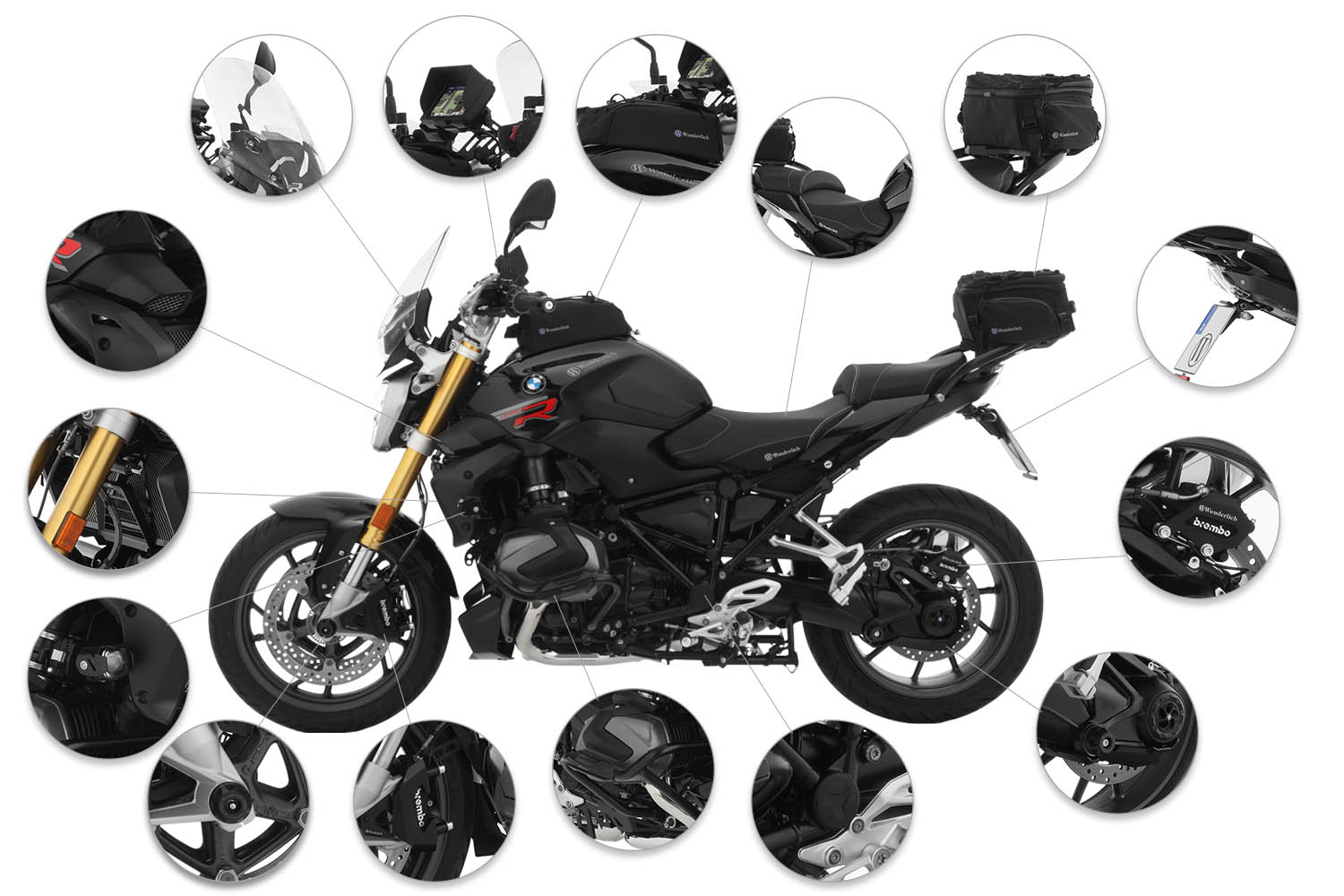 BMW R1250 R Wunderlich Edition
Our product range for BMW's agile R1250 roadster is quite aggressive: Whether it's protection for your R1250 R like engine bars or axle sliders, Final drive protection, radiator guards along with air inlet grills, various storage solutions like sport tank bags and rear rack bags. We also offer both rider and passenger seats that are a huge improvement over the OEM BMW seats. We can even make your R1250 R more sporty with our minimalist tail tidy conversion and frame plug that clean up all the open holes in the R series frames.
R1250 R Wunderlich Edition
---
Please note: Products listed below is NOT filtered to show only products that fit a specific bike model. Parts listed below were used building this Wunderlich Edition. Please note multiple color options may be listed.
Here you can see the direct comparison to the original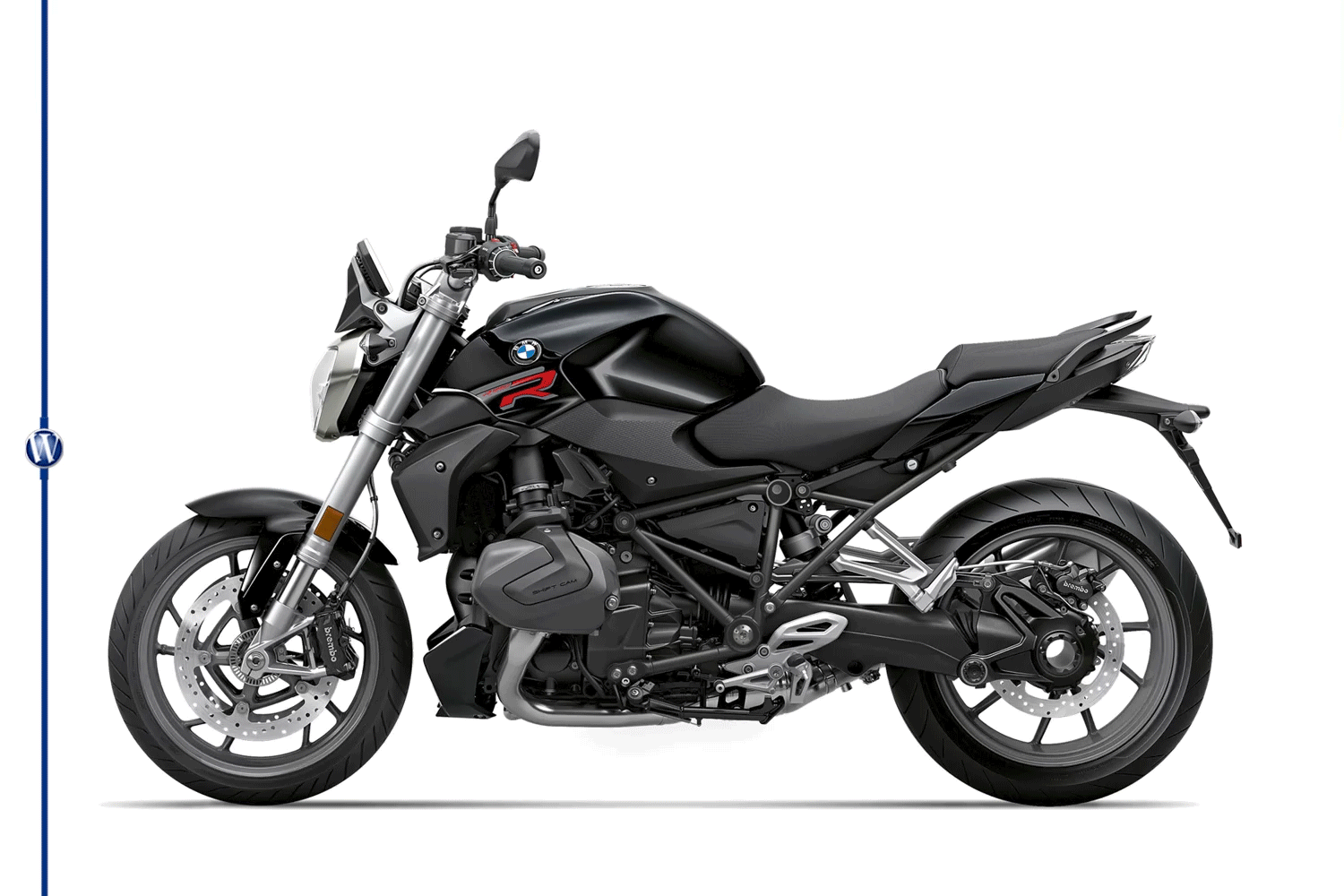 ---
BMW R1250 R Wunderlich Edition
---
R1250 R Tail Conversion
Tail Tidy Conversion for your R1250 R
Our License Plate Holder Sport is a stark contrast to the ugly, protruding original. Light, elegant and noble. This plate holder gives the tail section an optically lighter and sportier line.
The facts
Lightweight, tightly fitting and reduced to the bare essentials.
Tilt angle is adjustable
License plate positioning is adjustable
Pre drilled for our optional US Plate adapter
Laser cut, anodized aluminum
---
Protect your R1250 R
Protection for your Axles, Engine Guards, Brakes, Final Drive and more!
Fall prevention is the best protection against damage to the vehicle. But when it does happen, protection should be optimum.
The engine bars are a result of over three decades of experience in manufacturing protection bars, results in developing these stylish and effective engine protection bars that guarantees to deliver what they promise: safety, lightweight, durability, and low-maintenance. The engine bars not only reliably protect the cylinders and valve covers, but also the two oxygen sensors.
The all-round protection concept increases passive safety and riding experience. In case of a fall, the forces acting on the bars are optimally distributed to the load-bearing installation points, avoiding impact force peaks. The engine bars are made of 25-millimeter precision stainless steel tubing. The tube segments are formed on CNC tube bending machines and then cleanly welded. Visually, the guard integrates into the design of the motorcycle and emphasizes its striking appearance. Our bars emphasize the protective function and product design. The bars are an eye-catcher and refines your BMW in an exquisite manner. The stainless-steel surface is glass bead blasted and additionally electro-polished.
---
BMW R1250 R Naviagtion Relocator
Stop looking down, just to see where your going! Navigation Relocation!
The original navigation holder on the handlebar clamps of the R and RS may be really practical but it fails when a tank bag is used. Then the navigation sits too close to the seat and there's no space for the tank bag.
We've designed this refined, adjustable adapter that builds on the standard holder and moves the navigation up towards the instruments. Additionally, the navigator can be set completely individually in height and angle to the rider's needs and view.
Suitable for Navigator IV, V and V1 as well as Garmin Zumo 660
Individual setting of the navigation in height and angle
---
Wunderlich AKTIVKOMFORT Seats for Your R1250 R
Upgrade your BMW R1250 R Seats for Both the Rider & Passenger with Wunderlich!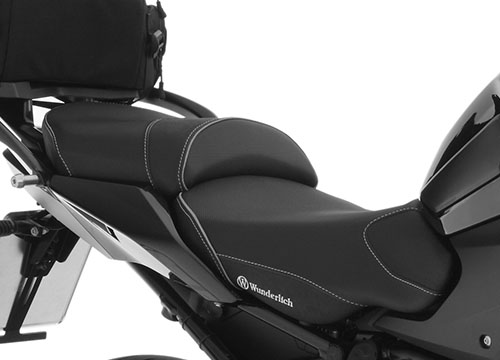 Wunderlich AKTIVKOMFORT Seat
Seat Options:
Standard Height Rider Seat
Low Height Rider Seat - 20mm Lower then Standard Seat
Tall Height Rider Seat - 20mm Taller then Standard Seat
Passenger
We manufacture our seats with a characteristic, ergonomic 3D contour. The shape and angle of the carefully crafted, progressively structured, dual-layer seat core support the ergonomically beneficial, natural posture of the back. One special feature of our passenger seat is the integrated support contour on the front of the seat that provides an additional secure hold while braking.
One special feature of our passenger seat is the integrated support contour on the front of the seat that provides an additional secure hold while braking.
Integrated, riding is a relaxing affair and thus also active. And there's no doubt that relaxed sitting adds a serious plus to passive safety. With the ThermoPro coating, the temperature of this seat in direct sun at the peak of summer is up to 25°C lower compared to standard, untreated cover materials. We also have a passenger seat in the range to go with this.
The same applies to all AKTIVKOMFORT seats:
The "buckling" of the cushioning is reliably prevented via the sophisticated construction and the sitting pressure is equally distributed over a large area, resulting in noticeably lower specific pressure load to your behind. Comfy! Also typically Wunderlich: The incorporated concave profile for relieving the pressure-sensitive coccyx is another outstanding trademark!
They offer perfect hold and active, reliable control during accelerated riding, also and especially when braking: who hasn't experienced it, when your passenger suddenly slides forward on braking and you immediately have to brace while simultaneously having to steer in what could be a hairy situation? With Wunderlich's very own support contour, these scary moments while braking are now a thing of the past. The innovative, ergonomic 3D contour also ensures that pressure points on the inner thighs while standing at the lights are now a distant memory.
---